LOS ANGELES (AFP) - Celebrities and stars around the globe have been paying tribute to pop icon Michael Jackson, praising his contributions to the world of music as they reeled from the news of his sudden death.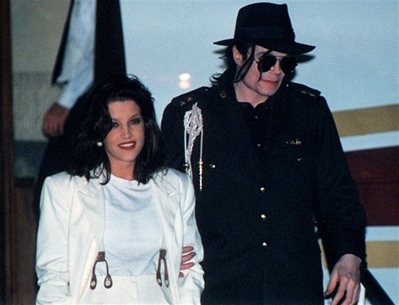 This 1994 photo shows Michael Jackson and his then wife Lisa-Marie Presley, in Budapest.
As fans gathered to grieve outside the Los Angeles hospital where the troubled star was pronounced dead after apparently suffering a heart attack, some of the biggest names in entertainment struggled to cope with the news.
Madonna said she was left in tears over the loss of "one of the greats" of pop music.
"I can't stop crying over the sad news," the veteran pop diva told celebrity website People.com.
"I have always admired Michael Jackson. The world has lost one of the greats, but his music will live on forever."
LOS ANGELES (Reuters) - Michael Jackson, the child star turned King of Pop who set the world dancing but whose musical genius was overshadowed by a bizarre lifestyle and sex scandals, died on Thursday, the Los Angeles Times said. He was 50.
"Pop star Michael Jackson was pronounced dead by doctors this afternoon after arriving at a hospital in a deep coma, city and law enforcement sources told The Times," the newspaper reported on its website.
Jackson had been taken ill at his home and found not breathing by paramedics who rushed him to a hospital, it said.
The paper's report followed news of Jackson's death first reported by the TMZ entertainment website, which said that the singer suffered a cardiac arrest. The news of his death was not immediately confirmed by Jackson's family, or spokespeople for them.
Family spokesman Brian Oxman told CNN that members of the singer's family, including his sister La Toya and brother Jermaine, were at the hospital. "They are in a room by themselves. They are quiet and they are sobbing," Oxman said.
Oxman said he had not been told whether Jackson had died.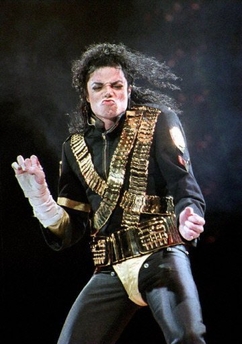 Photo:Roslan Rahman/AFP
Known as the "King of Pop," for hits that included "Thriller" and "Billie Jean," Jackson's dramatic, one-gloved stage presence and innovative dance moves were imitated by legions of fans around the world.
But Jackson's belief that "I am Peter Pan in my heart", his preference for the company of children, his friendship with a chimp, his high-pitched voice and numerous plastic surgeries also earned him critics and the nickname "Wacko Jacko."
Jackson, who had lived as a virtual recluse since his acquittal in 2005 on charges of child molestation, had been scheduled to launch a comeback tour from London next month.
PARAMEDICS UNABLE TO REVIVE SINGER
TMZ said on its website that Jackson suffered a cardiac arrest on Thursday afternoon at his Holmby Hills home and paramedics were unable to revive him. "We're told when paramedics arrived Jackson had no pulse and they never got a pulse back," the site said.
The Los Angeles Times said paramedics performed cardiopulmonary resuscitation at the singer's home before taking him to the UCLA Medical Center hospital.
Jackson had been due to start a series of concerts in London on July 13 running until March 2010. The singer had been rehearsing in the Los Angeles area for the past two months.
The shows for the 50 London concerts sold out within minutes of going on sale in March.
His lifetime record sales tally is believed to be around 750 million, which, added to the 13 Grammy Awards he received, makes him one of the most successful entertainers of all time.
There were concerns about Jackson's health in recent years but the promoters of the London shows, AEG Live, said in March that Jackson had passed a 4-1/2 hour physical examination with independent doctors.
Outside the hospital in Los Angeles about 200 fans and reporters gathered on Thursday, waiting for confirmation of Jackson's death or condition.
Some fans were crying and hugging each other, and others were climbing atop fences to get a better look at a microphone stand where a news conference was supposed to take place.
"I hope he's gone to God, and I hope that he's free of all the troubles he's been plagued with," Tonya Blazer, 50, who said she had been a fan going back more than four decades to his days as a child star.
"I just feel like I'm paying tribute to him," said Dawn Burgess, 42, a fan who said she had posters of Michael pinned to her bedroom wall when she was a child.
CHILD STAR TO MEGASTAR
Jackson was born on August 29, 1958, in Gary, Indiana, the seventh of nine children. Five Jackson boys -- Jackie, Tito, Jermaine, Marlon and Michael -- first performed together at a talent show when Michael was 6. They walked off with first prize and went on to become a best-selling band, The Jackson Five, and then The Jackson 5.
Jackson made his first solo album in 1972, and released "Thriller" in 1982, which became a smash hit that yielded seven top-10 singles. The album sold 21 million copies in the United States and at least 27 million worldwide.
The next year, he unveiled his signature "moonwalk" dance move while performing "Billie Jean" during an NBC special.
In 1994, Jackson married Elvis Presley's only child, Lisa Marie, but the marriage ended in divorce in 1996. Jackson married Debbie Rowe the same year and had two children, before splitting in 1999. The couple never lived together.
Jackson has three children named Prince Michael I, Paris Michael and Prince Michael II, known for his brief public appearance when his father held him over the railing of a hotel balcony, causing widespread criticism.
New Yorkers and tourists in the city's Times Square were shocked at the news of Jackson's death.
"I don't know what to say. It's sad, it's really, really sad," said Nicole Smith, an 18-year-old student from Brooklyn, New York, in Times Square. "My mother was a fan. I listened to his music."
"I'm shocked. I thought someone was lying to me when I first heard it. I was a fan from when he was a little boy and then he got weird," said Sue Sheider, 51, a teacher from Long Island.
(Additional Reporting by Jill Serjeant in Los Angeles and Michelle Nichols in New York; Writing by Frances Kerry, Editing by Jackie Frank)
Actress Elizabeth Taylor, one of Jackson's closest and longstanding friends, was "too devastated" to issue a statement, her spokesperson said, according to People.
Record producer and former Jackson collaborator Quincy Jones said he too was "devastated" by the news that the "King of Pop" had died at age 50.
"To this day, that music is played in every corner of the world, and the reason is because he had it all -- talent, grace and professionalism," Jones told US television network NBC.
"I've lost my little brother today and part of my soul has gone with him."
The star's first wife Lisa Marie Presley, the daughter of Elvis Presley, said his death had left her speechless.
"I am so very sad and confused with every emotion possible. I am heartbroken for his children, who I know were everything to him, and for his family," Presley told MTV News in a statement.
"This is such a massive loss on so many levels. Words fail me."
Jackson's influence on a younger generation of pop stars was clear, with warm tributes from Grammy winners Justin Timberlake and Beyonce.
Timberlake -- who like Jackson is known for both his singing and dancing abilities -- said in a statement that the world had "lost a genius and a true ambassador of not only pop music, but of all music."
"He has been an inspiration to multiple generations and I will always cherish the moments I shared with him on stage and all of the things I learned about music from him and the time we spent together."
Beyonce called Jackson's death a "tragic loss".
"The incomparable Michael Jackson has made a bigger impact on music than any other artist in the history of music," she told US television programme Entertainment Tonight.
"He was magic. He was what we all strive to be. He will always be the king of pop.
"For anyone who has ever seen, felt, or heard his art, we are all honoured to have been alive in this generation to experience the magic of Michael Jackson."
California Governor Arnold Schwarzenegger lamented the loss of "one of the most influential and iconic figures in the music industry."
There were "serious questions" about Jackson's personal life, Schwarzenegger noted, adding however that he and his wife Maria Shriver joined "all Californians in expressing our shock and sadness over his death."
Celebrities from Oscar-winning actress Jane Fonda to hip-hop icon and fashion mogul Sean "Diddy" Combs to cycling champion Lance Armstrong used micro-blogging website Twitter to express their sadness.
"Michael Jackson showed me that you can actually see the beat. He made the music come to life!! He made me believe in magic. I will miss him!" said Combs.
Even British Foreign Secretary David Miliband joined the Twitter tributes, saying: "Never has one soared so high and yet dived so low. RIP Michael."
Jackson's album "Thriller" remains the bestselling album of all time with more than 41 million sales. And his iconic moonwalk has passed into dance legend.
"Just as there will never be another Fred Astaire or Chuck Berry or Elvis Presley, there will never be anyone comparable to Michael Jackson," director Steven Spielberg told Entertainment Weekly.
"His talent, his wonderment and his mystery make him a legend."
Tommy Mottola, the former head of Sony Music who released Jackson's records for 16 years, said the singer had a place in the pantheon of American music.
"In pop history, there's a triumvirate of pop icons: Sinatra, Elvis and Michael, that define the whole culture," he told the Los Angeles Times.
"His music bridged races and ages and absolutely defined the video age. Nothing that came before him or that has come after him will ever be as big as he was."